Shoring: Critical to Maintaining a Safe & Operational Structure

How do you maintain a safe and operational building while removing a crucial element of the building's structure?
Call Caruso Turley Scott Structural Engineers!
Mike Farmer, SE | Project Manager
Caruso Turley Scott (CTS) and BCS Enterprises (a highly skilled demolition consultant) were presented with this seemingly impossible challenge on the Florence Elementary School Gymnasium Addition. Not only did a bearing wall supporting 72 foot-long trusses need to be removed but the owner/contractor also stipulated:
It needed to be done without damaging the existing floor.
It needed limited removal and damage to the 30+ year ceiling.
The general contractor needed enough room to install new foundations and beams.
AND most importantly the gymnasium had to remain functional.
Fortunately, for the owner and our client, our structural team has extensive knowledge and experience in providing structural shoring solutions. To meet all of the owner's requirements, and ensure that the roof and ceiling would not come tumbling down during the demolition process; our highly trained engineers diligently reviewed the existing drawings and worked hand and hand with BCS to provide a shoring system solution that worked for all aspects of the team's requirements.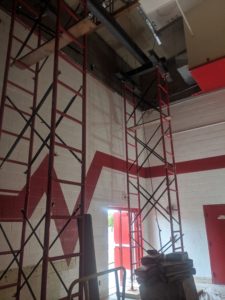 CTS designed custom brackets that supported the 72 foot-long TJG trusses (wood chorded trusses with steel webs) away from the existing bearing wall. These brackets allowed the trusses to securely attach to the shoring for both gravity loads (the existing roofing ceiling, and mechanical weight) and also wind loading. The wind loading was required in case an unforeseen wind gust got under the open structure and then tried to lift the roof structure off!
Special shoring designs that utilized a system of transfer beams and shoring towers were also provided to ensure the towers did not destabilize the soil during excavation for the new footings. Once the brackets, transfer beams and shoring towers were installed, BCS began the demolition process and the contractor was then able to successfully install the new beams and foundations to support the new design configuration.
Shoring is critical when any repairs or alterations are made to a building, and CTS was able to successfully and efficiently assist BCS Enterprises in this situation.
Remember call CARUSO TURLEY SCOTT
We absolutely can help you!
480.774.1700