Is Your Structure Moving?
SPINNING AND ROLLING STRUCTURES

Daniel Van Cuyk, SE | Project Manager
Most structures are anchored down to concrete foundations embedded in the earth and they are intended to never move. If they do, then you've probably got a serious problem.
But what if you need your structure to rotate or roll?
Call Caruso Turley Scott, our team has designed multiple projects with these demands with excellent results. A couple of recent examples include the Carousel Theater within the OdySea in the Desert Aquarium, Scottsdale, AZ and the Telescope Enclosure at Lowell Observatory, Flagstaff, AZ.
The Carousel Theater at OdySea had multiple challenges to overcome such as how to make an oblong pit round, how to level the adjacent floor so that it always lines up with a moving structure, and how to provide power and HVAC to a moving structure.
Intense coordination was required between CTS and the Architect, General Contractor, and the Mechanical and Electrical Engineers in order to get everything to work together harmoniously. Structurally, the circular framing, the moving supports and the dynamic loading were the greatest challenges to overcome.
The Telescope Enclosure at Lowell Observatory in Flagstaff Arizona protects a series of ground-mounted telescopes from the forces of nature during the day, so they can be used (weather permitting) at night. The entire building bears on a set of train wheels that ride along train tracks embedded in the ground on continuous concrete foundations. This allows the entire building to be rolled away at night to allow for the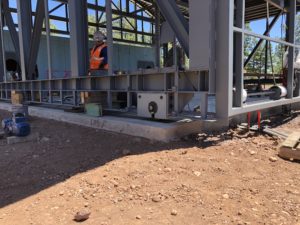 use of the telescopes.
Dra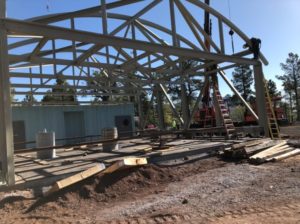 inage and maintenance of the train tracks without making them tripping hazards, and maintenance and access to the train wheels when covered by wall panels were both tricky logistical issues. Dynamic, wind and snow loads on a moving structure that is not anchored to the ground while moving also made this a very complicated and satisfying project to engineer.
So regardless of whether you need your structure stationary, rolling or rotating, Caruso Turley Scott has the expertise and creativity to make your dream a reality.
Remember call CARUSO TURLEY SCOTT
We absolutely can help you!
480.774.1700